We've Witnessed California Natural's Commitment to Quality Firsthand: 
In June of 2016, the Soldan's team had the pleasure of touring the plant where California Natural dog food is made in Fremont, Nebraska. MARS (a family owned company) bought California Natural in 2014. In those few short years, MARS has invested millions of dollars into the Fremont plant and implemented 100's of safety checks and quality measures into their manufacturing process. It is not uncommon for them to turn down a tuck of fresh meat or vegetables if it is not up to their standard of quality. We were absolutely blown away by the extreme measures they take to ensure that every single bag of food that leaves their plant is formulated correctly and 100% safe for your pets.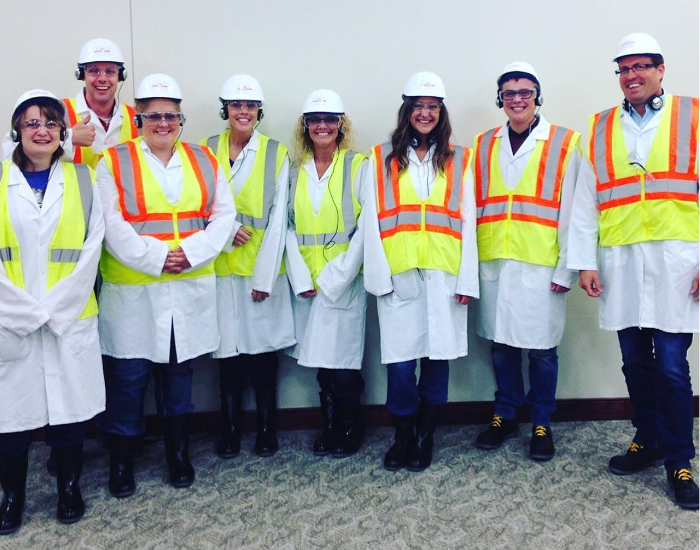 Our Soldan's team in Fremont, NE at the California Natural manufacturing facility. 
Why Less Is More 
California Natural is designed specifically for dogs with sensitive stomachs, skin & coat issues, food sensitivities & ingredient intolerances. The more ingredients a food has the more you increase the chances that your dog may be sensitive to it. California Natural only uses 3-6 key ingredients (currently the fewest on the market for dry dog food). This helps avoid common dietary triggers that are common amongst other pet foods and ensures that your dog is living their life the healthiest and happiest that they can. 
California Natural is formulated without corn, wheat, white potatoes, soy, dairy, eggs, byproducts, artificial flavors, colors or preservatives. Animal based protein is the number one ingredient. California Natural has committed itself to a higher standard and only sources ingredients from reliable sources. You can visit their website and trace where all of the ingredients in your pet food are coming from.
We've Seen Cal Nat Work With Our Own Two Eyes: 
Many Soldan's employees feed California Natural to their own dogs. Kelly Damsen, Assistant General Manager of Soldan's Pet Supplies has been feeding California Natural Lamb & Rice to her Lab 'Dozer' for over 8 years. 'Dozer is always excited to eat (we know he's Lab, but still), his coat is shiny, he has a ton of energy, his stools are small and firm and he's been able to maintain his weight over the years' says Damsen. 'I am confident in California Natural and wouldn't dream of switching foods.' 
California Natural = Proud Supporter of Ma & Pop Shops. 
At Soldan's we are honored to be able to support our local animal rescue & foster groups, advocate for local causes and happenings & attend events in our community. This support would not be possible if our community did not support us. California Natural cannot be bought online or in big box stores. By choosing to sell solely to small, locally owned businesses Cal Nat is making a huge investment in your local community. When local businesses thrive so does your local community.
California Natural is often featured in our monthly sales flyer.
California Natural also comes with a frequent buyer program, buy 10 and get 1 bag free. Visit a Soldan's today & talk to our knowledgable sales staff about why we love Cal Nat & consider giving it a try. 
Stay hungry my pets, 
Nikki Soldan 
Business Development Manager
Soldan's Pet Supplies
SOURCE: 
CaliforniaNaturalPet.com